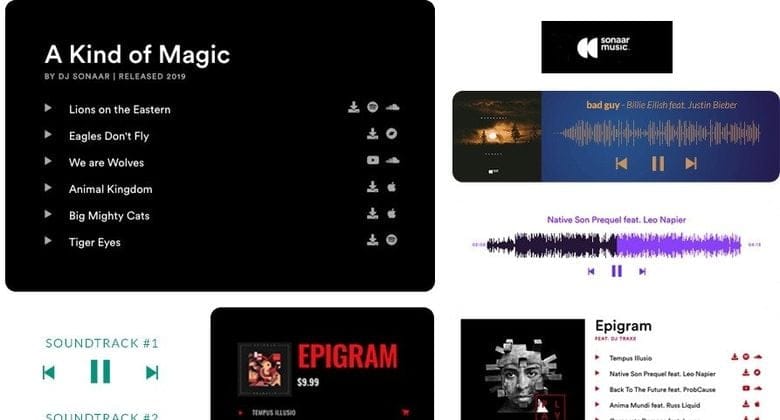 Get the all-in-one Sonaar MP3 Audio Player Pro WordPress Plugin for music and podcast that fits all
Sonaar music WordPress music theme and audio player plugin developer introduced Lyrics in Real-time with Sonaar MP3 Audio Player Pro WordPress Plugin! Users can see the lyrics scroll as they listen to a song, one of the most requested features from users across the globe.
Read into the words of your favorite tracks or use the lyrics to have a good old sing-a-long with a Karaoke twist!
Here's how to turn on lyrics on Sonaar MP3 Audio Player Pro WordPress plugin:
Generate a TTML file for each of your songs using this online generator.
Upload your TTML file in WP-Admin > MP3 Player
The lyrics will automatically scroll at the bottom of your screen.
TTML stands for Timed-Text Markup Language, a universal file format for song lyrics. That is what Spotify uses for its lyrics feature.
Live Demo: You can see a live demo in our music player example page.
This new feature is a perfect example of two things Sonaar care about: Listening to feedback from our users across the globe and creating the best possible MP3 Audio Player plugin for WordPress.
Add Sonaar MP3 Audio Player Pro to WordPress for Music and Beat Makers
MP3 audio player pro is the industry-leading plugin for WordPress to add music, loops and drumkits, to your website.
Create professional and highly customizable music players
Add download, lyrics and call-to-action buttons
Sticky player with continuous playback option.
Sell music file, beats and sample packs on your website.
Sonaar MP3 Audio Player Pro WordPress Plugin is the Ultimate Audio Player for Podcasters
This is the ultimate Podcast player for WordPress ever created to design a next-level Podcast Website.
Add unlimited podcast episodes and shows
Import podcasts from all major podcast distributors
Subscribe buttons, show notes and bonus materials
Automatic RSS feed update and full RSS feed support.
Sticky player & continuous playback through all your site pages
Sonaar MP3 Audio Player Pro WordPress Plugin is the Woocommerce Player at its best for Selling Music Online
Selling music online and earn money from your music creation while keeping 100% profit is now possible!
Sonaar Music really went the extra mile and made the Sonaar MP3 audio player pro connects seamlessly with WooCommerce, the world's most popular free eCommerce plugin.
Whether for selling digital music, memberships, or subscriptions, our audio player will empower your eCommerce website immediately.
Sonaar MP3 Audio Player Pro WordPress Plugin is for Course Creators and Marketers
Whether you are a course creator, marketer, voice-over artist, audiobooks publisher or meditation trainer, this audio player has everything you need.
Create unlimited playlists & categorize them the way you want.
Customize the layout with Elementor, Gutenberg or shortcode.
Add call-to-actions for downloads, notes, and files to download.
Get statistic reports through Google Analytics.
What makes Sonaar MP3 Audio Player Pro special?
MP3 audio player pro by Sonaar is the easiest Audio Player plugin for WordPress ever made.
The idea behind this WordPress plugin is to keep it super simple. Create a playlist. Upload MP3 files and easily add the album on any pages or posts using your favourite page builder.
Hands off! Soundwave is self-generated and this plugin will fetch ID3 tags of your MP3 and add it to the database for you.
Continuous audio playback, slick player controls and stunning soundwave bar is here to impress.
It is not only a great visual addition to your audio player, it allows listeners to have an overview of the highs & lows of your audio track and skip right through a specific time.
The controls, waveform colors and headings are all optional and customizable via the audio control panel.
Get flat 30% OFF Coupon Code for Sonaar Music Lifetime Membership at Sonaar Coupons page at Cbshop.in.